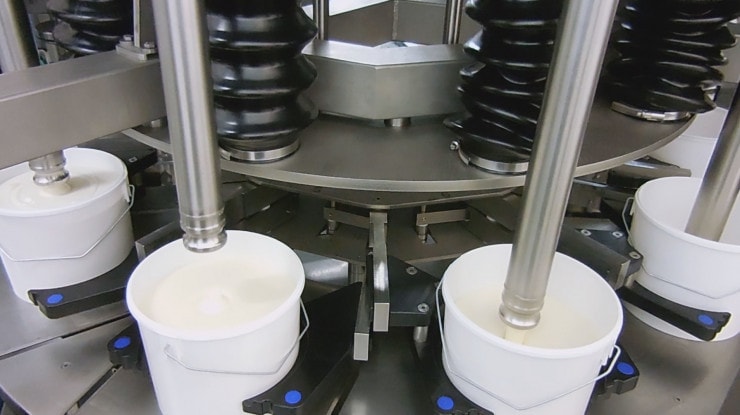 PACK'R designs and manufactures food filling equipment for a range of liquid food needs, with many options. Food filling equipment from PACK'R includes the following features:
Machines for filling liquid foods in large containers (drums and totes) of 8G or more, as well as smaller containers from 5fl. oz to 8G (bottles, pails and jerrycans)
Your food filling machine can be further customized for container types, material to be filled and more
Weight-based filling for maximum accuracy, with documentation available
Explosion-proof designs
Options for smaller footprint machines
Pressurized tanks for consistent flow
Easy installation
As a custom food packing machine supplier, we specialize in identifying and creating the exact right machine for your application and requirements. We will work with you to deliver a machine that is the ideal fit for your facility and the needs of the job.
Let PACK'R design and engineer a customized food filling machine for your liquid food products:
Sauces
Vinaigrettes
Mayonnaises
Syrups
PACK'R conceptualizes and builds many types of custom food filling equipment — including sauce bottling equipment, syrup bottling equipment, mayonnaise bottling equipment and more. Our machines can fill and cap containers of nearly any size efficiently — from 100ml to 1,000L.
With the right custom sauce filling machine from PACK'R, you can address a range of bottling and filling needs. Depending on sauce bottling machine type, you can fill:
Standard retail bottles
Sample sizes
Single-use packages and bottles
Wholesale containers
Large containers such as drums and totes for industrial-caliber liquid food transportation requirements
Other packaging options include screw caps, flexspouts, push-on caps, lids, bungs and tab seals.
BENEFITS OF PACK'R FOOD FILLING EQUIPMENT
A sauce packaging machine from PACK'R offers numerous speed, efficiency, safety and quality benefits, such as:
Automated operation, reducing the need for human operations in repetitive packaging jobs
Multiple accuracy measures, including weight filling, torque detection for capping and more
Options for smaller footprints to fit any area of the facility, enabling you to retain an efficient factory layout
Multiple customization options for all types of containers, lids, spouts and more
Safety measures including explosion-proof construction
Options for monoblock machines that combine filling, capping, labeling and other processes in one piece of equipment — saving an immense amount of floor space and labor
Whether you need a single machine or an automated turnkey line, you can rely on the skilled technicians at PACK'R to provide exactly what you need to fulfill your production requirements. We offer the experience, expertise, product selection and customization options to help ensure that you begin seeing a significant return on your equipment investment as quickly as possible after installation. We are ready to answer any questions you may have about food packaging equipment, and how ours can help you.