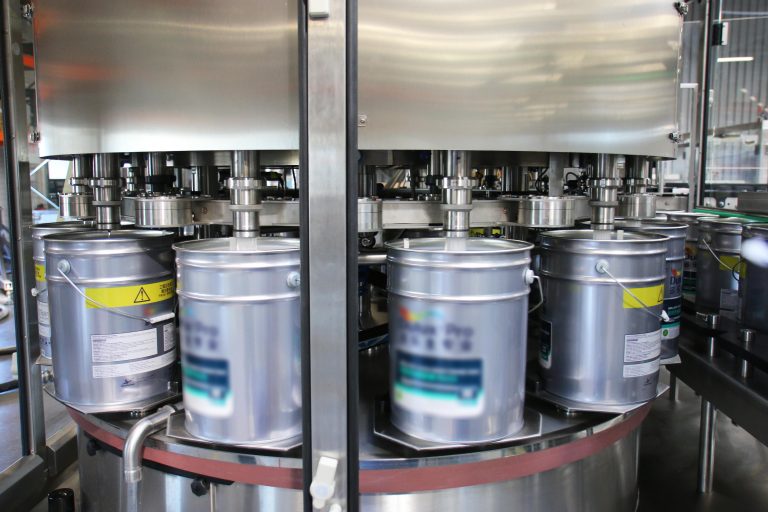 Accuracy and speed are important when filling and packing paint into containers of any size. Inaccurate filling can lead to spills and drippage that may necessitate rejection and repacking. In a high-volume operation such as paint filling, speed and efficiency are paramount. An automatic paint filling machine can fulfill both of these needs, offering the machine-regulated accuracy and speed required for any paint filling facility.
Paint Filling Machine Options
Our paint filling equipment can meet nearly any paint filling specification, with two product lines tailored to different size needs. Paint filling equipment from PACK'R falls under two broad categories:
5fl. oz to 8G
8G and above
Within these categories, we offer several machines. Available features and options for your paint packing machine include:
Different lidding and capping options
Filling by weight for maximum accuracy
Monobloc machines, combining filling, capping and labeling processes into one machine
Small footprint options when space is a concern
Explosion-proof construction for maximum safety
Flow control and smaller tanks for consistent flow, regardless of viscosity
These features are suitable whether you are in the market for a fully automatic or semi-automatic paint filling machine, and can all be customized by us.
Types of Paints Our Machines Can Fill
Let PACK'R conceptualize and build a customized paint filling/packing machine for your fluid or viscous products:
Paints
Glues
Sealants
Coatings
Resins
Inks
A leading paint filling machine manufacturer, PACK'R designs and engineers filling equipment for paint and related products. No matter what size pail or container you need to fill, we can provide the right machine to fill and cap your containers in the most efficient manner. Our extensive experience in handling all types of liquids — including special applications such as explosive liquids — combines with our ability to manufacture high-quality filler/cappers to make PACK'R a standout company in the paint and related products industry.