PULSA-D AUTOMATIC DRUM FILLING MACHINE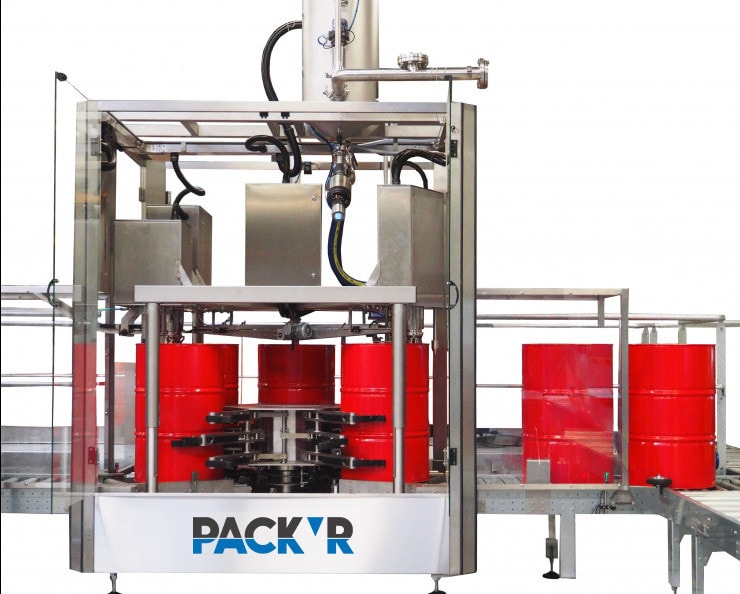 PACK'R, a designer and manufacturer of automatic drum filling equipment and systems, offers the PULSA-D automatic drum filling machine. This automatic drum-by-drum filler capper is capable of filling up to 120 drums per hour. Our automatic drum machine fills drums from 60L to 220L capacity, and can handle plastic or metal bung caps and plastic or metal cap seals.
The PULSA-D automatic drum filler is designed to accommodate a broad range of products and applications. One fully automatic drum filling machine is suitable for drums of varying materials and sizes, and can be housed in a cabinet or guard to control the ambient atmosphere. In addition, explosion-proof design makes this fully automatic drum filling machine suitable for filling any liquid type, including petrochemical fuels, lubricants, agrochemicals, paints, coatings and food products.
Benefits of this automatic drum filling machine include:
Explosion proof design
High-speed filling machines (no human intervention)

The integrated automatic drum filling system allows for simultaneous execution of automatic operations on each station: debunging, filling, bunging, crimping
Fast format changeovers (Click&Play tooling system)

Precise positioning of drums during transfers from station to station (held in place by grippers)
Quick return on investment (no giveaway / high production capacity)
CIP cleaning system (no human intervention)
Able to fill thousands of drums per day, the PULSA-D automatic drum filling system offers the versatility and safety you need for even the harshest filling applications. For more information, contact us today.