REVO-S C2 Compact Filler Capper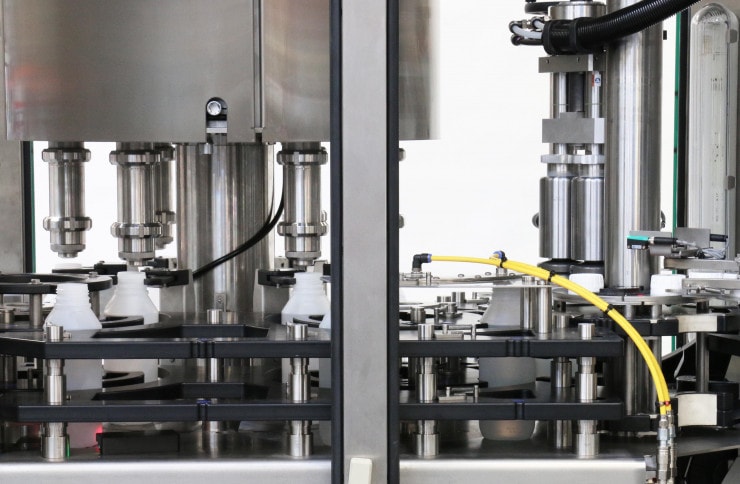 Manufacturers of liquid products may have limited floor space considerations that can hamper the installation of equipment used when packaging liquid products in varying container sizes. They may also be looking for smaller machines when creating new products for short production runs. In addition, new manufacturers may require affordable filling and capping systems that more align to their limited budgets.
PACK'R provides compact filler capper machines to provide efficient bottle, jug and container seals for your liquid products. Our compact filler system works with containers of 500-milliliter to 20-liter capacities while providing output levels of up to 40 containers per minute (CPM). Our compact filler machine can handle a range of cap sizes and configurations that include screw caps, flexspouts, lids and push-on caps.
When relying on manual capping procedures, workers may not have the space to move about to fill and cap liquid containers due to other equipment processes being in their way.
In addition, manual processes can be time-consuming and wasteful, which can create fill-rate inaccuracies for containers and does not guarantee a tight seal during capping procedures. By automating your filling and capping processes, you can ensure consistent liquid weight filling accuracy throughout the production run. You also eliminate product waste while having the appropriate flow rate to meet production schedules.
Compact Filler Capper Machine Capabilities
The PACK'R compact filling machine handles liquids for a range of manufacturers in the chemical, petrochemical, lubricant, agrochemical, food, vegetable oil, paints and coatings industries. This machine allows for companies of all sizes to have efficient packaging processes without requiring a large amount of space to set up the equipment.
Features and benefits of the compact filler capper include:
Explosion-proof design / ATEX
Smaller, pressurized tank for consistent product flow rate
Traceable, user-friendly HMI (Human-Machine Interface)
Weight-filling system with legal metrology available
Very high accuracy with product savings due to no overfilling
Customized cleaning programs reduce wasted product and cleaning solutions
Compact capping system with consistently accurate torque values
Multi-format machine handles bottles, jerrycans, pails and drums
Small footprint with several layout configurations
Quick tooling changeovers with dedicated color tooling for specific container
Customizable Solutions for Liquid Manufacturers
Your manufacturing processes can range from simple production runs to complex operations. You may be filling varying containers throughout the production day made from different materials and sizes. 
Our REVO-S C2 compact capping machine provides customizable solutions to fit your particular layout and liquid container products. These compact machines have multi-format features to handle different containers as only a single operator is required. PACK'R machines can be installed with several layout configurations to optimize available floor space without compromising the functions of other equipment or processes.
Come to PACK'R for Your Compact Filler Capper System
Founded in 1989 and with our equipment delivered to five continents, PACK'R offers manufacturing solutions when companies require compact capping machines and filling equipment for their operations. Reach out today for more information.