INLEO-P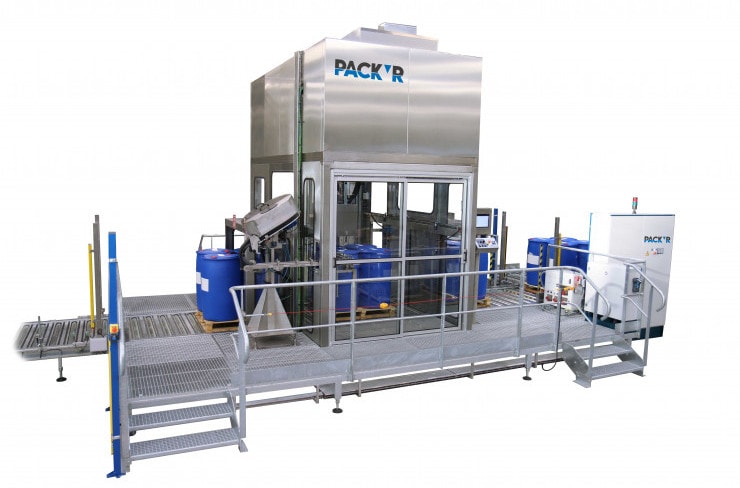 PACK'R, a designer and manufacturer of drum filling equipment and systems, offers the Automatic INLEO-P machine. This automatic pallet drum/IBC filler capper is capable of filling up to 40 drums per hour or 10 IBC per hour. It fills drums and IBCs from 20L to 200L capacity, and can handle plastic or metal bung caps and plastic or metal cap seals.
Benefits of this automatic drum filling machine include:
Explosion proof design
Quick, easy installation
Labor cost reduction (no human intervention)
Integration of full automatic functions :

Bung detection with 2D camera
Bung removal
Product filling (with automatic grounding for hazardous execution)
Bung replacement (with torque control)
Cap seal crimping
Conveyor and controls system easily integrated with filler
Why Choose PACK'R?
This automatic liquid filling machine is useful in numerous applications, ranging from petrochemical processing to food production. Like the others in our complete range of auto filling machines, it has the capability to fill dozens of containers every hour. This automatic filling machine delivers consistent dependable results for as long as possible.
With more than 30 years of experience in the industry, PACK'R is your complete resource for automatic capping machines as well as other packaging solutions. Our goal in everything we do is always to achieve 100% customer satisfaction; you can trust our automatic fillers to get the job done right for you. To learn more about our offerings, reach out and get in touch with us today.