Drum/IBC Filling Equipment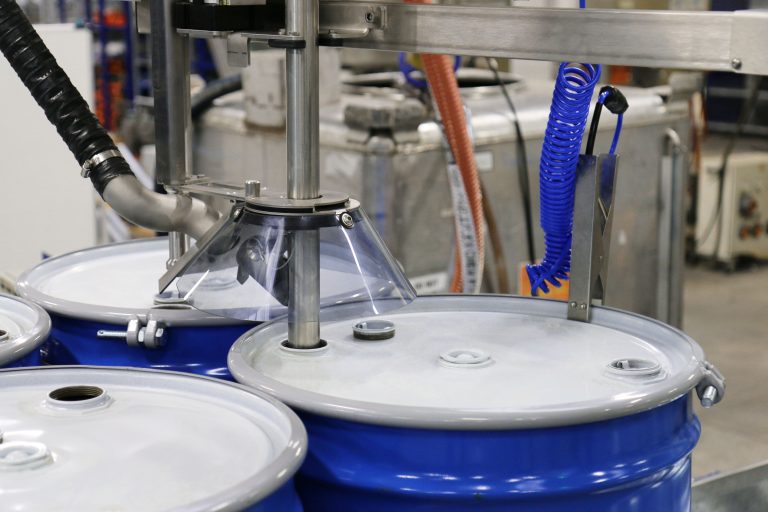 Certain commercial and residential applications require liquid products in industrial-grade containers, such as drums or intermediate bulk containers (IBCs). To obtain accurate weight filling without overflow, underfilling or contamination, PACK'R provides semi-automatic and automatic IBC-filling and drum-filling equipment.
IBC- and Drum-Filler Equipment for Your Company 
PACK'R provides liquid-filling and capping equipment to companies in the chemical, petrochemical, agrochemical, food, vegetable oil, and paints and coatings industries. When you need accurate drum and IBC-filling equipment to place liquid products into the appropriate containers, PACK'R has the equipment solutions that will deliver productivity and scalability to your processes.
Our drum filling and capping machine can work with a variety of containers made from plastic or metal with metal bung or cap seals. Our drum and IBC equipment works with various sizes such as small 60-liter containers as well as larger 1,200-liter capacities. These containers can accommodate liquid products that are water-thin, viscous, aggressive, foaming and even explosive, such as: 
Detergents
Solvents
Fertilizers
Pesticides
Soda concentrates
Lubricants
Coolants
Virgin vegetable oils
Refined vegetable oils
Vinaigrettes
Food syrups
Sealants
Resins
Turn-Key and Customized Equipment Solutions 
If you are looking for efficient machine processes for your production line, PACK'R provides automatic and customized liquid-filling machine solutions. We offer: 
Automatic drum-by-drum filler machines can fill an average of 120 drums per hour, so you can get containers lined up for shipping individually. This production arrangement is ideal for companies that will be shipping various amounts of liquids to multiple destinations during one trip. 
Our semi-automatic and automatic IBC-filling and drum-filling machines are for pallet operations. These machines can fill drums and IBCs on pallets so that the containers can then be capped, and the pallets lifted onto the delivery trucks using forklifts. You can load pallets onto trailer beds and trucks quickly to meet various shipping deadlines. 
Your liquid manufacturing process may need a solution where you want the finished machine shipped directly to the floor for immediate use. Other times, you may be introducing a new product and require customized engineering designs to determine the right component configuration, materials and equipment operation to suit the characteristics of the liquid and the container-filling capacities. Here at PACK'R, we can provide you with both solutions under one roof to better accommodate your manufacturing goals. 
In addition, we offer service and support for our drum- and IBC-filling machines. Whether you are looking for operator training for a new machine, basic equipment maintenance, or require upgrades or retrofits due to product changes or operational growth, we've got you covered.
Let PACK'R Increase Your Productivity With Liquid-Filling Machines
Ensure you are accurately filling your drums and containers with your liquid products by speaking with our representatives today to discuss our IBC-filling systems. We can provide you with the machines that will integrate into your existing production lines to make your processes more efficient.