PULSA-S Step-By-Step Filler Capper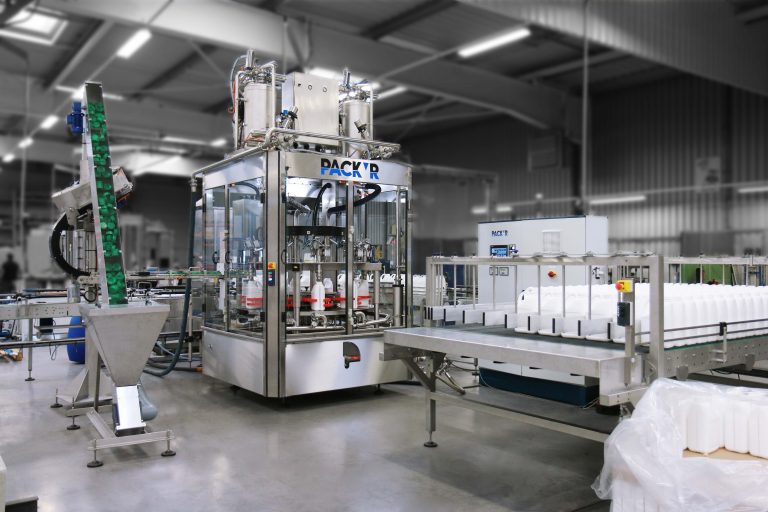 Capping liquid containers at the speed and accuracy to fill daily quotas relies on having the right equipment for production processes. Here at PACK'R, we assist small and large manufacturers around the world with our PULSA-S  step-by-step filler capper equipment for their liquid products. Our equipment is designed to increase the speed and efficiency of operations while effortlessly integrating with existing production equipment for optimal operations. 
Our equipment consists of a brushless capping machine with independently controlled DC motors to offer accurate capping torque for every liquid container and varying cap configuration. Our PULSA-S  step-by-step filling machine creates outputs of up to 18 containers per minute (CPM) and can fill containers that possess capacities of 500 milliliters up to 20 liters. These machines provide the appropriate amount of motion control for screw caps with different thread configurations as well as lids, bungs, push-on caps and tab seals. Instantly switch between several capping stations, or several formats at each station, with a PACK'R PULSA-S  step-by-step filling machine.
Easy-to-Use Equipment Solutions for Versatile Operations
Due to the versatility of these machines, you can create the configuration that fits seamlessly into your production line for a more flexible equipment solution. We provide automatic systems with a user-friendly interface so workers can easily make changes when replacing container sizes or caps.
Benefits of the PULSA-S step-by-step filler capper include: 
Explosion-proof design / ATEX
Smaller, pressurized tank for consistent product flow rate
Traceable, user-friendly HMI (Human-Machine Interface)
Weight-filling system with legal metrology available
Very high accuracy with product savings due to no overfilling
Customized cleaning programs reduce wasted product and cleaning solutions
Brushless capping system with consistently accurate torque values
Multi-format machine handles bottles, jerrycans, pails and drums
Small footprint with several layout configurations
Quick tooling changeovers with dedicated color tooling for specific containers
Durable and Efficient Capping Systems
Capping systems must be durable enough to handle long production runs without significant wear and tear during daily operations. Our brushless capping systems in our step-by-step filling machines offer increased reliability and speed. The brushless capping machine provides optimal torque during tooling changeover adjustments without slowing down the production line. 
In addition, our PULSA-S  step-by-step filler capper systems allows for ease of operation, increasing the efficiency of operations as you can raise liquid production output for increased sales possibilities. Produce, fill and cap more liquid products to raise the company's profits without dealing with product waste or inaccurate fill rates.
PACK'R Liquid Filling Machines for Short and Long Production Runs
Manufacturers rely on liquid filling and capping machines when they need consistent high-quality processes. Our PULSA-S  step-by-step filler capper system provides highly accurate product filling solutions while being versatile enough to fit into your production lines. Find out why more manufacturers in the food, chemical, paint, coating, agrochemical, lubricant, petrochemical and vegetable oil industries turn to PACK'R for equipment solutions by contacting us today.