REVO-S Monoblock Filler Capper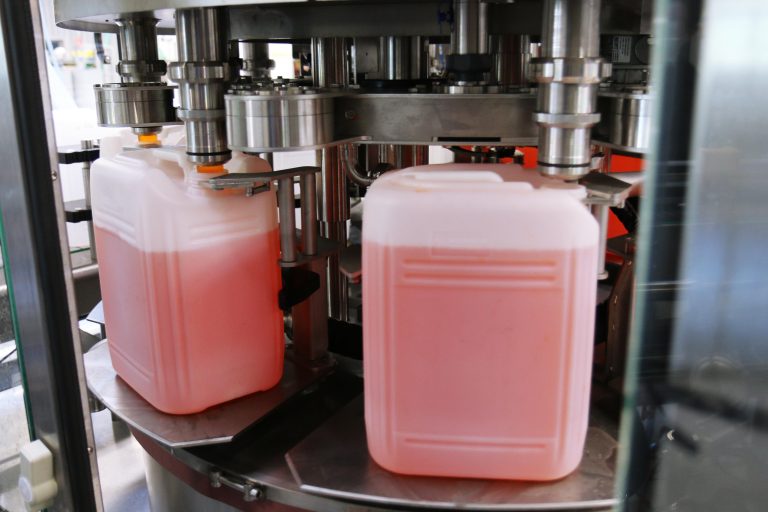 Efficiently manufacturing liquids for commercial use requires the right kind of packaging and labeling equipment. A manufacturer may have container cleaning machines, liquid filling equipment, capping and sealing equipment, and labeling machines arranged in a long, inline layout consuming a sizable portion of the shop floor. This setup requires additional space for conveyance — automatic or manual — to move containers from one station to the next.
Incorporating a monoblock filler system into this type of operation provides immediate space savings by combining many processes into one machine with integrated stations and coordinated, automatic movement of containers from one process to the next via starwheel. This more centralized setup vastly reduces the footprint of a filler capper infrastructure by decreasing the number of separate machines on the floor. In fact, a monoblock filler system is often the only way for some shops to be able to fit all necessary processes into their facility. Yet there's no sacrifice in efficiency: this is a high-speed filling machine, capable of filling up to 600 1-liter bottles per minute.
HOW MONOBLOCK FILLING MACHINES PROVIDE CUSTOMIZABLE SOLUTIONS
Our standard monoblock bottling machine uses servo motor-controlled motion to keep containers synchronized with each process station. The monoblock filler and capper also utilizes starwheels to quickly and efficiently change containers from function to function. This automatic machine can easily be adapted to your needs with a custom design, for example it is possible to add a crimping turret or a nitrogen station.
The processes built into each monoblock liquid filling machine are completely customizable based on industry needs. If you only want to add a filling and capping system now and later add a nitrogen purge function or crimping carousel, the monoblock filler system can handle it. In addition, processes can be enabled or disabled from cycle to cycle; for example, if a cleaning process is not needed in a particular run.
In addition, the REVO-S monoblock capping machine eliminates the need for multiple communication and interface systems, and can be controlled by any operator without the need for extensive training. An integrated HMI provides a single, user-friendly software interface that controls all packaging functions. This makes changeovers easy, reduces setup and training time, and creates an overall more efficient process.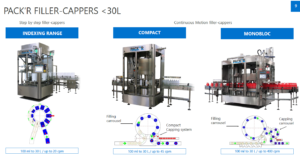 MONOBLOCK FILLER SYSTEM FEATURES
At PACK'R, our REVO-S high speed rotary machinery accommodates container capacities of 500ml to 30L. The Monoblock Filler Capper has a reliable output of up to 600 CPM, ensuring fill weight accuracy to minimize product waste and inconsistent filling. The standard magnetic monoblock filling and sealing machine can handle caps, flex spouts and push-on caps as the dosing carousel controls both the container filling function and after-filling functions.
Features and benefits of the REVO-S monoblock filling machine include:
Explosion-proof design/ATEX
Pressurized tank for consistent product flow rate
User-friendly HMI (Human-Machine Interface)
Weight-filling system for high accuracy with no drips
Clean & Play® fully automatic clean-in-place (CIP) system
Standard magnetic capping system
Optional brushless capping system with torque control
Quick tooling changeovers
CHOOSE A REVO-S MONOBLOCK FILLING MACHINE FROM PACK'R
If you want to improve production performance with a more efficient machine and layout, or if you're dealing with limited processing space, consider adding a Monoblock Filler Capper machine. This versatile and reliable system allows you to fill and cap containers at a steady rate without overcomplicated conveyor belt systems and multiple filling and capping stations.
Contact PACK'R today for more information about our monoblock liquid filling machines and their capabilities.